Unique Therapeutic Program for Children
with Special Needs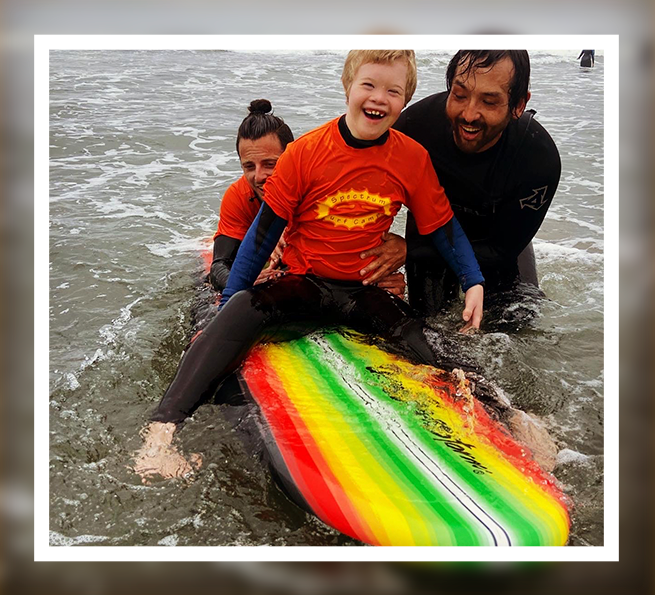 Spectrum Surf Camps is a unique therapeutic program that offers one-week surf camps for children with special needs, including, but not limited to, autism spectrum disorder, Down Syndrome, cerebral palsy, and emotional disturbances. The camp is limited to six (6) campers with a 1:1 and/or 2:1 camper/instructor ratio. Staff includes behavior specialists, occupational therapists, speech and language therapists, peer volunteers, and surf instructors who have experience working with both children and adults with special needs.
Spectrum Surf Camps' home base is located in Bolinas, California, just north of San Francisco. Camp sessions take place on both Bolinas Beach and Stinson Beach, which are the perfect settings to introduce children to the sport of surfing. Bolinas and Stinson Beach are well-known beginner's spots that offer consistent wave height and speed during the summer months with gentle rollers and a sandy bottom. While there is no guarantee that each camper will stand up on their board, they will certainly experience the thrill of the ocean and riding a wave.
Mom, surfer, and education specialist, Natalie Pepper, combined her passions for teaching and surfing to create a surf camp to serve children with special needs. She brought together a team of experts that includes behavior specialists, speech and language therapists, occupational therapists, and seasoned surf instructors to provide a surf camp experience that best meets the needs of children with special needs.
Spectrum Surf Camps is a fiscally sponsored project of MarinLink a California non-profit corporation exempt from federal tax under section 501(c)(3) of the Internal Revenue Service #20-0879422.
Donate Below or send a tax-deductible donation to:
Spectrum Surf Camps
c/o MarinLink, Inc.
5800 Northgate Mall, Suite 250
San Rafael, California, 94903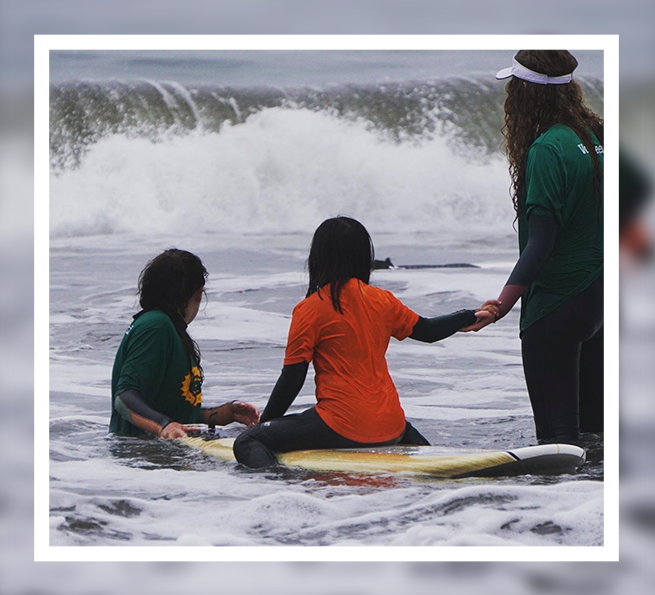 Donate to Spectrum Surf Camps
Testimonials

"AN AMAZING ORGANIZATION THAT PROVIDED A UNIQUE EXPERIENCE FOR MY CHILD AND ME!"
SATISFIED PARENT

"SURFING HAS MADE ME BRAVE AND FILLED WITH DETERMINATION!"
OZZIE, AGE 9

"I JUST WANT TO GET MY KIDS OUT IN THE COMMUNITY AS MUCH AS POSSIBLE. I WANT THEM TO EXPERIENCE DIFFERENT THINGS [LIKE SURFING]."
SATISFIED PARENT

"[THE PROGRAM IS] IMPORTANT BECAUSE KIDDOS WHO ARE ON THE [AUTISM] SPECTRUM OR WHO HAVE PHYSICAL DISABILITIES ARE OFTEN LEFT BEHIND WHEN IT COMES TO HAVING NORMAL CHILDHOOD EXPERIENCES LIKE GOING TO THE BEACH," ELANA SAID. "GIDEON HAS VERY HIGH NEEDS AND YET [CAMP STAFF] STILL FIGURED OUT THE WAY TO GET HIM NOT JUST IN THE WATER, BUT ACTUALLY RIDING THE WAVE."
SATISFIED PARENT